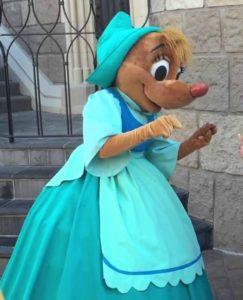 My daughter's fingers, like tiny talons, bore into my flesh. Her eyes widened with terror, tears welled behind a fringe of lashes. As we disembarked the tot-sized train and headed toward the entrance, I spied the source of her panic. There, at the gate to the Magic Kingdom, stood a mob of behemoth Disney characters. As the other children flew off the train, flailing wildly toward the costumed crowd, Lauren's steps decelerated to a stop.
For years, Lauren dreaded these larger-than-life costumed characters. No amount of explaining could remove her fright. After being allowed to zip up the dad's Barney attire at a friend's birthday celebration, she froze when he later danced into the party room. At a local kiddy amusement park, she released a blood-curdling howl during the Three Little Pigs show before bolting out of the arena.
Now her worst nightmare materialized before her eyes. The other children hugged and danced with Beauties and Beasts, gigantic chipmunks, ducks, and mice. But as Lauren slowly retreated from the scene, one small mouse slipped away from the pack. The green-kerchiefed mouse, a diminutive Cinderella aide, sensed my daughter's trepidation and gently moved toward her, knelt down and spread open her arms. And she waited. And waited more, arms spread wide. She wooed Lauren to her without a word. Ever so slowly, Lauren approached the silent mouse, and eventually, she nestled into her as Miss Mouse tenderly held her.
My eyes welled up witnessing this scene. I can never express the depth of gratitude I have for the person inside that mouse costume. And for the lesson she taught me. More than a moment in a child's life, this event symbolized the actions taken by God the Son 2000 years ago.
Jesus left His rightful place at the entrance to the Kingdom to get closer to those who foolishly feared the Father. He humbled Himself, descending to live with His creation. He opened His arms wide to allow us to draw near to Him, enveloping us with His love.
The incarnation reveals God to us in a way that we can easily accept. In Jesus, God took on human nature so that He would die for our sins as a fellow human. But also He became approachable in His humanity. God is not just a harsh judge dispensing punishment. He is also our Advocate who loves us. He is the ruler of the cosmos, but He personally and intimately knows all our needs. He is so large that the universe cannot contain Him. But He can be so small that He can fit inside our hearts.
Won't you draw near to Him and nestle in His loving arms? He's waiting for you.
Come near to God and he will come near to you. James 4:8

Let us draw near to God with a sincere heart and with the full assurance that faith brings… Heb. 10:22

For more on the incarnation, please check out my page Mary Had A Little Lamb. Available on my website or Amazon.com.