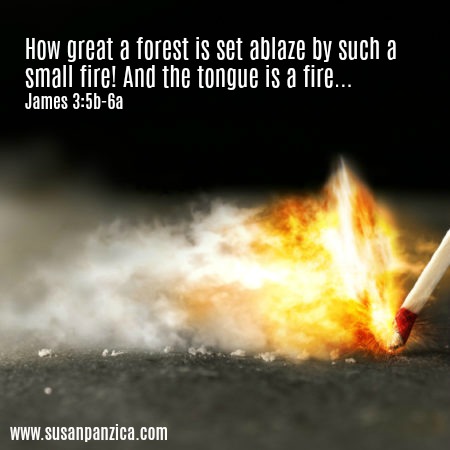 On Sunday, my pastor shared a message titled How Do You Speak. In it, he rightly challenged us to use our words for good and not for evil.
How easy it is for us to quickly shoot off our mouth only to leave destruction in its wake. Yet the tongue can also be an instrument of great blessing and encouragement.
I've been guilty of both.
With the tongue we praise our Lord and Father, and with it we curse human beings, who have been made in God's likeness. Out of the same mouth come praise and cursing. My brothers and sisters, this should not be. Can both fresh water and salt water flow from the same spring? My brothers and sisters, can a fig tree bear olives, or a grapevine bear figs? Neither can a salt spring produce fresh water. James 3:9-12
A modern day extension of our tongue is our social media. How often people post things that even their tongue wouldn't say. With our nation more polarized than ever, it's easy to find like-minded people who further inflame our words.
We must exercise caution with our words, being quick to listen but slow to speak and become angry. As James said, the tongue is a tiny part of the body, yet like a tiny rudder controls a ship, so the tongue controls us.
But I think we can all agree that it isn't easy to control the tongue. Even James says, "but no human being can tame the tongue. It is a restless evil, full of deadly poison."
So what can we do?
I've decided that in addition to focusing on my tongue, I need to focus on my heart. Both Luke and Matthew say that it's "out of the abundance of the heart, the mouth speaks."
A good man brings good things out of the good stored up in his heart, and an evil man brings evil things out of the evil stored up in his heart. For the mouth speaks what the heart is full of. Luke 6:45
If my heart isn't right with God, then trying to control my tongue is like trying to put a lid on a volcano. At some point, all the fire inside will erupt and overflow causing hurt and harm to others and myself.
But if it is right with God, then the outpouring of my heart will represent the God who lives there.
When I'm tempted to spout off, it's worth my time to stop and look at what's going on inside my volcano. What is the reason that I'm so eager to mouth off? Is there something in me that needs to change? How does Jesus see this person that is frustrating me? How much does Jesus love him/her? As much as He loves me??? Well yes, He does.
So this person or situation is giving me an opportunity to grow in Christ-likeness. Can I lose my self-righteous anger and learn to love the way that Jesus does?
Since the tongue is a tiny spark that incites great blazes, can't we use our tongue to fan the flame of love!