If we're friends on Facebook (and I hope we are!), you might have seen my day of disaster and delight on Friday. We started out to Atlantic City for a concert, but were sidelined by car trouble. Twice we needed AAA for the rescue. The second time, we waited by the side of Rte. 287, definitely NOT the safest place to be. My husband insisted it was safer to wait outside the vehicle, so I stood perched on a few feet of pavement between certain death either way. In front of me were cars, motorcycles, and GIANT trucks whizzing by. Behind me on the other side of a way-too-low-guardrail was a deep ravine.
Fortunately, the Lord provided something (or things) to take my mind off my dilemma.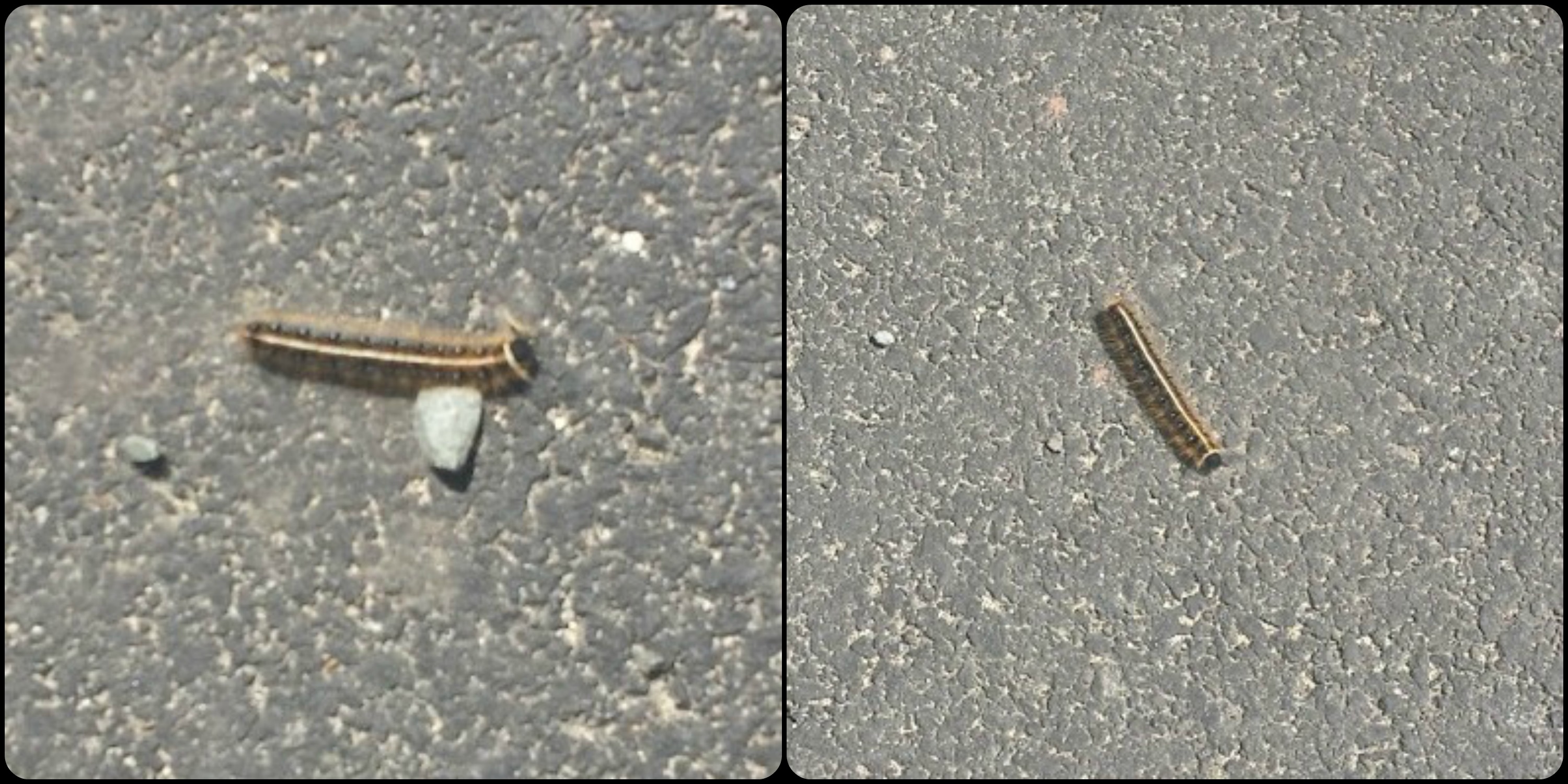 Yup, these critters.
I'm not sure if they're centipedes or millipedes or something else entirely. I do know that there were quite a few of them, and they each individually had the same goal. They had crawled up from the ravine behind me and were intent on getting to the highway.
However, each time a truck flew by the force of the wind gusts caused the little critters to tumble sideways over and over again. What I found fascinating was that each time they finished rolling, they wasted no time and got right back on their mission, their tiny feet taking step after step heading to the highway. Until the next gust of wind. And then they did it again, back to their mission.
After getting over my distaste sharing my space with them, I was extremely impressed with their tenacity. I thought I could learn a few things from them. And I did.
1. How often do I let far lesser interruptions derail me from my purpose?
It doesn't take much for me to get distracted or discouraged, too often quitting before the finish line. Time after time, these critters were tossed headlong, but immediately set themselves back on track. I want to take my cue from them when things come crashing down around me, and keep my focus on what God has called me to do and to be
2. How often do I pursue something long after God has shown me to let it go?
These critters didn't realize it, but for those who made it to the highway, their journey ended in the harshest way possible. Those on the sideline were on their way to certain death. I couldn't imagine what drove them to destruction. (My mom suggested it might be mating season, so perhaps there were some cuties on the other side.) Unfortunately, the dangers didn't deter them, and in this case, they should have.
Perhaps the turmoil of the winds served as a protection from the disastrous situation on the road ahead. In the same way God protects us, but too often we continue on our perilous journeys despite His warnings. We cling to our plans rather than let God direct us. Our own arrogance and personal desires can be our greatest downfall.
So…
On the one hand, we need to persevere. On the other hand, we need to let go. How to know? The key here is to remain in deep personal relationship with the Lord in prayer and through His Word to be sensitive to His leading. And then to obey. This needs to be daily practice, not something we initiate when the crisis hits. Like the Apostle Paul, we need to be willing to press on, yet turn around when led to do so. (See my prior post.)
Here's my spin on the famous Serenity Prayer:
God grant me the tenacity to stick to the plans You have for me.

The grace to surrender when You have a better strategy.

And the wisdom to know the difference.
Can we talk? Do you struggle more with pressing on or surrendering?