Stuff to make your life easier & meaningful
Meaningful Gift Giving Guide


Advent Conspiracy
Can Christmas still change the world? The Christmas story is a story of love, hope, redemption and relationship. So, what happened? How did it turn into stuff, stress and debt? Somehow, we've traded the best story in the world for the story of what's on sale."
Yes! Christmas can still change the world. Click over to Advent Conspiracy and see how you can make your Christmas more meaningful this year.
Gift a thoughtful donation –
Select gifts that will benefit others outside your family. Donate to a charity based on your or your family members interests. In our family, we made a donation to Poetice Intl. for my daughter who is interested in the arts and mission work; for my guitar playing husband, it was a donation to Guitars For Glory; and for my marathoner son, we made a donation through his fraternity to the Special Olympics, the frat's charity of choice.
Or choose from these gift catalogs:
IJM – Buying gifts from the International Justice Mission gift catalog will provide rescue from slavery, and safety and care to those at risk.
Gospel For Asia – support a child, a woman, or a national missionary in south Asia. 100% of what you give toward sponsorship goes to the field.
Compassion – Gifts purchased through Compassion support education, medical care, nutrition, and the gospel for sponsored children around the world.
Keep your kids engaged –
Polymer Clay Nativity, Advent Calendar w/ mini ornaments
40 Mindful and Meaningful Gift Ideas
Stressbusters
Does the phrase "Only 10 more shopping days until Christmas" send shivers down your spine? If so, this article is for you. Containing Ten Tips to beat the holiday hassles, you'll find reasons to feel blessed not stressed in the days to come.
The Santa Conundrum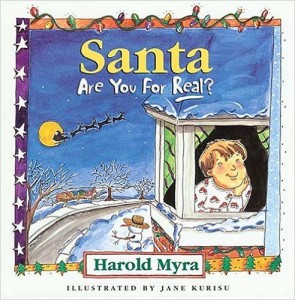 How do you handle the Santa issue? 
Some parents feel that the idea of lying to your children is an anathema. And many Christians consider Santa to be a huge distraction from the real meaning of what Christmas is really about – honoring the birth of the Christ. Others view it as a long-standing tradition, a harmless, fun way to build excitement for your children.
In our family, we took a different approach. I grew up celebrating Chanukah, not Christmas, so there was no tradition I felt compelled to follow. My husband clearly remembers the day that his parents informed him that there was no such thing as Santa Claus, and it wasn't pretty.
Our solution was to keep Santa in the category of characters – including clowns, tv and Disney-type characters. My children were excited to see them , but never expected them to come to our home or watch their behavior. Only Jesus was a welcome participant in our lives.
Vocab
These words appear in Mary Had A Little Lamb. Their definitions are starting points for family discussions.
Adoration– strong love; worship.
Eternal Life–life without beginning or end; lasting forever.
Generosity –being ready and willing to give much.
Glory –very great praise and honor; a state of splendor; absolute happiness.
Good news – something that is positive, encouraging, uplifting, desirable.
Grace – favor; goodwill; mercy.
Heaven – where God and the angels live; a place or state of supreme happiness.
Maji – wise men or astrologers (people who interpret the stars and heavenly bodies).
Manger – a box in a stable or barn from which animals eat.
Marvel – to be filled with wonder, admiration, or curiosity.
Praise – the act of expressing approval, admiration, homage, or commendation.
Savior – some who saves, rescues.
Tidings – news, information.
Worship – expressing love, honor, and paying homage to God
Christmas Carols
Most radio stations and stores play some type of Christmas music at this time of year, but many of the songs have become so familiar to us that we no longer consider their content. But many of these carols are songs and hymns of worship.
If as you are shopping and one of the beloved carols wafts through the air, let your heart rejoice in the Savior who came to live and die for us.
Download this PDF for more about the truths and myths about some of our favorite Christmas carols.